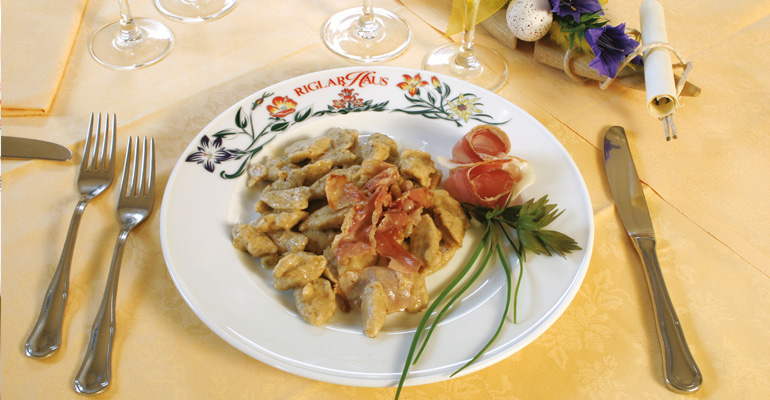 Gnocchetti with speck and kummel

First dish
Prepared with bread and a sprinkling of cinnamon and nutmeg for flavour.
Would you taste this dish and other typical food prepared by our chef? Book now
Book a table
Recipe
Ingredients for four servings
Three pieces of day-old bread, 2 fresh eggs, a glass of milk, a teaspoon of kùmmel, 200 g of white "00" type flour and a sprinkling of cinnamon and nutmeg for flavour. For the seasoning: 4 slices of thinly sliced speck, a knob of butter and a bit of extra-aged Carnic cheese.


Preparation
Let the bread soak in the milk for about an hour. Put it in the blender for a few minutes and then add the eggs, cinnamon, nutmeg and kùmmel which you have previously boiled together in a few drops of water. Add salt to taste and then use a spoon to shape lots of tiny gnocchi. Throw them, a handful at a time, into a pan of boiling salted water. When they float to the top take them out and put in cold water. Place the butter in a frying pan with the diced speck. Put the gnocchi back into the boiling water to heat and then transfer them into the frying pan with the speck. Add the cheese and serve right away.