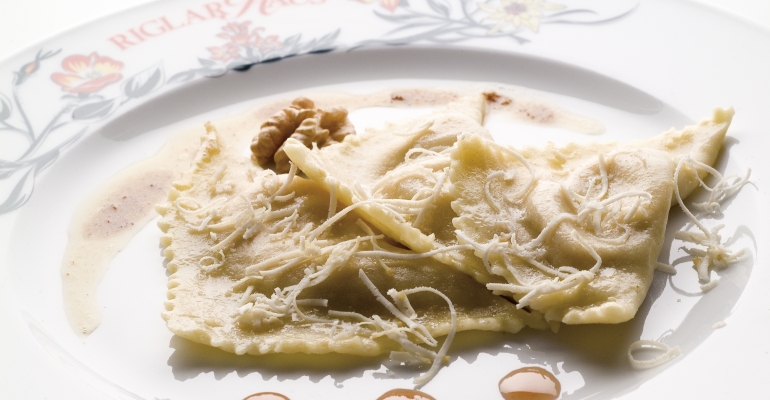 "Formadi frant" triangles with walnuts

First dish
A first course full of flavour with the most special cheese in Friuli Venezia Giulia
Would you taste this dish and other typical food prepared by our chef? Book now
Book a table
Recipe
Ingredients for six servings
Homemade pasta, 200 g of formadi frant from Carnia, 200 g of fresh Carnic ricotta, 50 g of shelled walnuts, a knob of butter.
Preparation
Mix the formadi frant and the fresh ricotta using a wooden spoon and add the walnuts after they have been ground in the blender. If the mixture is too thick add a drop of milk, whereas if it's too strong add another bit of ricotta. Cut the sheet of homemade pasta into 8x8 cm squares. On each one place a tablespoon of the cheese mixture and then fold over to form a triangle. Make sure the edges are pressed tightly together. Cook in plenty of boiling salted water and then transfer them into a frying pan with browned butter, the rest of the crushed walnuts and some extra-aged cheese. Mix well and serve.