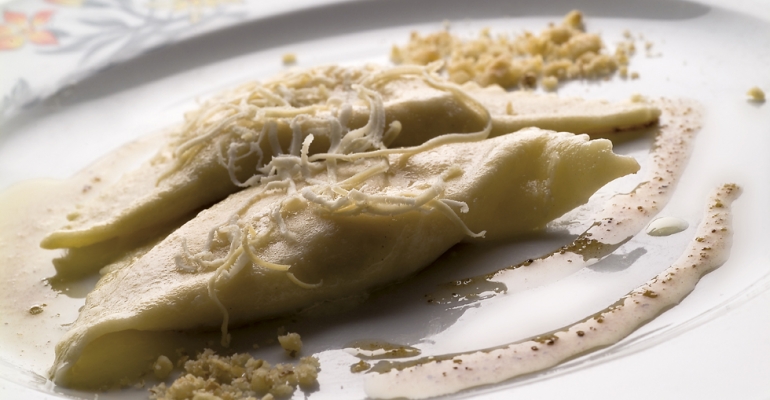 Cjarsons with field greens and malga ricotta

First dish
The main dish of Carnia tradition with field greens and malga ricotta
Would you taste this dish and other typical food prepared by our chef? Book now
Book a table
Recipe
Ingredients for 6 servings:
Fresh home-made pasta, rolled thin. For the filling: 1 kg of fresh baby spinach, 1 garlic clove, 1 russet apple, 250 g of fresh ricotta, some grated malga ricotta, a handful of raisins that have been soaked in water, a little butter. For the sauce: 100 g of butter, a handful of cornmeal, some smoked malga ricotta, some extra-aged hard cheese.
Cook the spinach in a small amount of salted water, drain and finely chop. Put it in a saucepan with butter and the garlic clove (remove it before continuing). Grate the apple and add to the spinach with the fresh and smoked ricotta, heat through. Adjust seasoning and cool.
Roll out the fresh pasta on a work surface and put small mounds of the filling on it, then use a pastry cutter (this can be found in specialty shops) to cut rounds and fold each to form a half moon enclosing the filling.
Cook the cjarsons in boiling salted water and in the meantime melt the butter in a saucepan. When it is hot add the cornmeal and cook until lightly browned. Plate the cjarsons and dress with a bit of the aged cheese, two tablespoons of the butter and cornmeal mixture and finish with grated smoked ricotta.